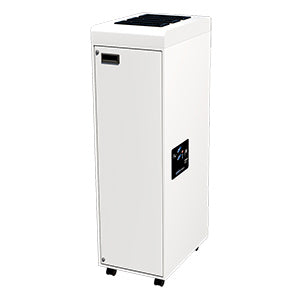 AF1000 by Quatro Air is a fresh air purifier that reduces airborne dust. It has capacity for lab area of up to 400 sq ft.
Specifications:
Provides protection for spaces up to 400 ft²
3-stage air filtration system designed to efficiently reduce airborne particles
Affordable low maintenance general purpose air purifier for single rooms
Powerful, compact and very portable
Brushless motor designed for continuous duty
True Deep-bed HEPA Filter, ensures 99.97% efficiency on the capture of airborne particles
Reduce heating and air conditioning energy/maintenance costs
Reduce general cleaning and maintenance costs
Also included: Casters for mobility (#AA037), (3) Spare Dust Filters
Optional: Odor Filter upgrade, replace F015 with #F003-GPC
Dimensions: 52" x 16" x 22"
Weight: 216 lb