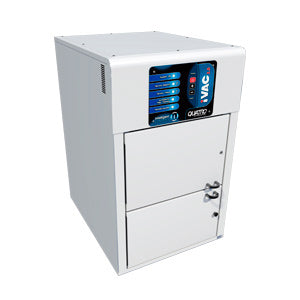 iVAC 2.B TWIN BRUSHLESS by Quatro Air is a self-cleaning dust collector engineered for dental laboratory usage. It is a heavy duty, 4-station bench dust extractor featuring premium brushless motor technology and HEPA filter.
Specifications:
Ideal for collection and containment of sand, quartz, zirconia, ceramic, alloys, glass beads, resins, aluminous oxide, acrylics, gypsum, die-stone and dry-model trimming
HIGH EFFICIENCY PREMIUM BRUSHLESS motor technology delivers more airflow
Improved, more efficient self-cleaning system
Easy access to the motors and filters
Newly designed Heavy-duty main filter for larger particle removal
HEPA Filter, 99.97% efficiency on sub-micron particles like fine zirconia dust in CAD/CAM milling
Separate access doors: remove debris without having to access filter section
"OnLine Filter Cleaning" (Worry-free feature automatically cleans the main filter without operator assistance)
Alerts you when filters need replacement
Debris storage capacity: 5 US gallons (19.0 litres)
ASV ready: Auto-Start Valves

 

help control airflow AND remotely start/stop the unit at each workstation
Also included: Hand-switch for 6 ft remote Start-Stop, 4x separate inlets, 25 ft suction hose 1.5 in diameter
Optional: Silencer for noise suppression, Foot-pedal for 6 ft remote Start-Stop, ASV Unit Cable
Dimensions: 25.5" x 15.75" x 19.5"
Weight: 90 lb