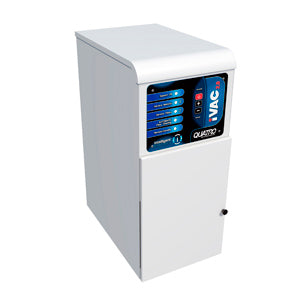 iVAC 2.C COMPACT by Quatro Air is a light-duty, self-cleaning dust collector engineered for dental laboratory CAD/CAM milling usage. It features a compact design with heavy-duty HEPA filtration system that is made for fine particles like zirconia dust.
Specifications:
Newly designed, heavy-duty main filter designed for larger particle removal
Improved, more efficient self-cleaning system
HEPA Filter, 99.97% efficiency on sub-micron particles like fine zirconia dust in CAD/CAM milling
Hybrid INFINITY motors for extra power and prolonged motor life
Easy access to the motors and filters
AUTOFLOW: Set to lowest acceptable speed, motors will maintain airflow despite pressure increase
Temporary ON: Clean your mill while unit is in standby mode
"OnLine Filter Cleaning" (Worry-free feature automatically cleans the main filter without operator assistance. Milling machine runs uninterrupted)
Alerts you when filters need replacement
Debris storage capacity of 1.9 US Gallons (7.2 litres)
Also included: Mill specific Auto Start-Stop cable & 6 ft suction hose
Dimensions: 22" x 10" x 15.5"
Weight: 43 lb