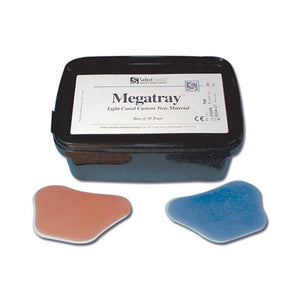 Megatray™ is a light cure tray material supplied in economical prefabricated sheets– eliminating mixing and mess.
Megatray™ features good working time along with excellent malleability and adaptation to model. Easy trimming characteristics reduce error as well as effort.
Megatray™ is odorless and uniform in thickness with low shrinkage and exceptional strength.
Available in 2 colors and sizes. Each size includes 50 Trays per box.
2mm- Available in Blue and Pink
1.4mm- Available in Pink