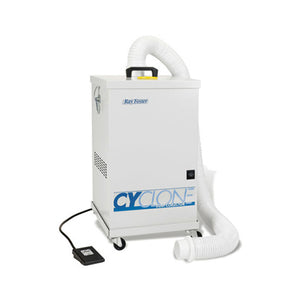 The Ray Foster Cyclone Dust Collector is a powerful and efficient dust collector for use in the dental laboratory, designed for trouble-free performance and heavy-duty operation. Quiet, portable and compact, the dust collector is ideal for under-the-counter operation.
Model CDC2: Deluxe Cyclone Dust Collector
The Deluxe Cyclone Dust Collector features a two stage, ultra-quiet, by-pass motor suitable for use with abrasive blasters, and includes a remote foot switch and mobile cart.
Specifications
Unit size 12" x 12" x 19.5" high
115 volt, 60 Hz standard
230 volt, 50/60 Hz optional for export
42 lbs. net weight, 50 lbs. shipping weight