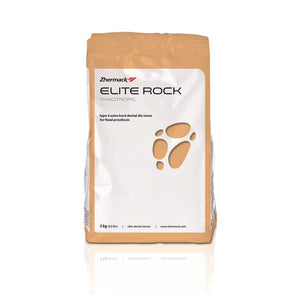 Elite Rock Type IV Die Stone by Zhermack has an ideal balance of thixotropy and fluidity. It simplifies the mixing process in creating the model die. It exhibits high compressive strength, reduced abrasion, and high precision. It offers low expansion even beyond 48 hours.
It is scannable only in Silver Grey.
Indications for use: production of models and removable dies in fixed and removable prosthesis
Note: Provided image is a small 3 kg package. Our product is for 25 kg.
Specification:
 Size

 25 kg

 Color

 Silver Grey, Sandy Brown

 

 Setting Time

 14 min

 Water : Powder Ratio
 20 mL : 100 g
 Compressive Strength
 11,750 psi
 Expansion
 0.08%